Last week, the FanGraphs staff took you through most of the league's position players. Now, before we turn our attention to pitching, Meg Rowley examines the state of the designated hitter.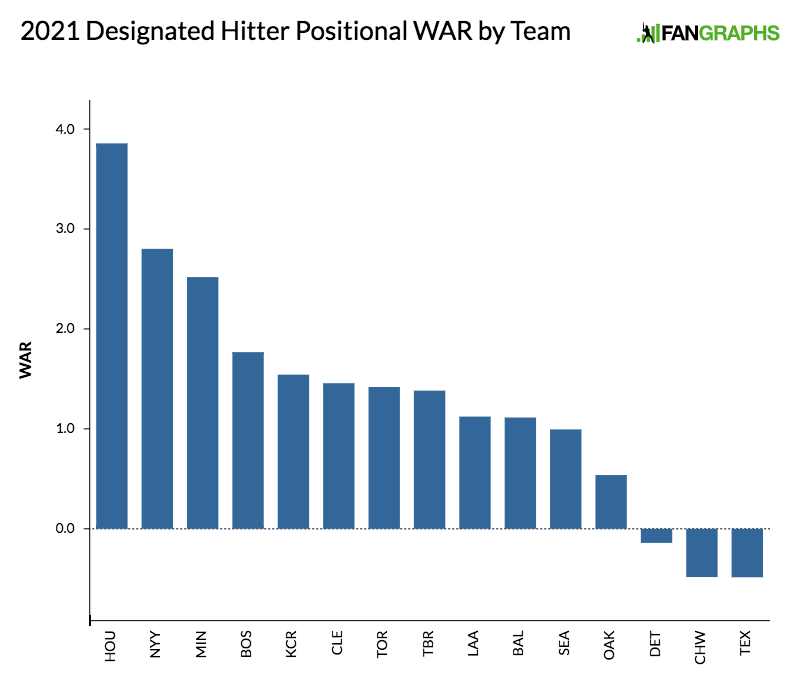 If these rankings prove anything, it's just how rare it is for teams to have a truly designated designated hitter anymore. Some still look to a single bopper, and many of those clubs are at the top of these rankings. The Astros, Yankees, and Twins still figure prominently; Yordan Alvarez, Giancarlo Stanton, and Nelson Cruz will do that for you. But for about half of the squads here, DH plate appearances are a group project, with the position often serving as a means of giving otherwise-capable fielders a day off.
It's not totally old hat in 2021. Interesting young guys like Andrew Vaughn and Ty France could outperform their modest projections, and Shohei Ohtani is his own wild card. Still, with three clubs projected in the red and several more clustered around 1 to 1.5 wins, the DH bats have swooned. Perhaps a universal DH will shake things up, but I suspect we'll see more of the same when the NL finally puts pitcher hitting to bed — a collection of good-hitting catchers, erstwhile first basemen, outfielders who need a breather, aging vets, and a few elite bats carrying the load.
2021 Positional Power Rankings – DH